In this Apple Watch Ultra review, we will explore the features, design, and capabilities of Apple's latest smartwatch offering. Launched in September 2022, the Apple Watch Ultra boasts significant improvements over its predecessors, making it a top choice for fitness enthusiasts and tech-savvy individuals. From its robust build to advanced health-tracking capabilities, this smartwatch is designed to meet the demands of an active lifestyle.
Design and Build
The Apple Watch Ultra showcases a sleek and durable design, with dimensions measuring 49 x 44 x 14.4 mm, and weighing a mere 61.3g. The combination of sapphire crystal front, ceramic/sapphire crystal back, and a titanium frame ensures impressive durability and adds a touch of elegance to the watch's appearance.
Moreover, the watch comes with IP6X certification, making it resistant to dust and debris. With a water resistance rating of 100m (WR100) and 40m swim proof/diving (EN13319), the Apple Watch Ultra can accompany you in various water-based activities.
Display
The Retina LTPO OLED display of the Apple Watch Ultra is truly remarkable, offering a peak brightness of 2000 nits, ensuring excellent visibility even in bright outdoor conditions. The 1.92-inch screen with a resolution of 502 x 410 pixels delivers a pixel density of around 338 ppi, resulting in sharp and vibrant visuals.
The display is protected by sapphire crystal glass, guarding it against scratches and accidental damage. The always-on display feature allows you to glance at the time and important information without needing to lift your wrist.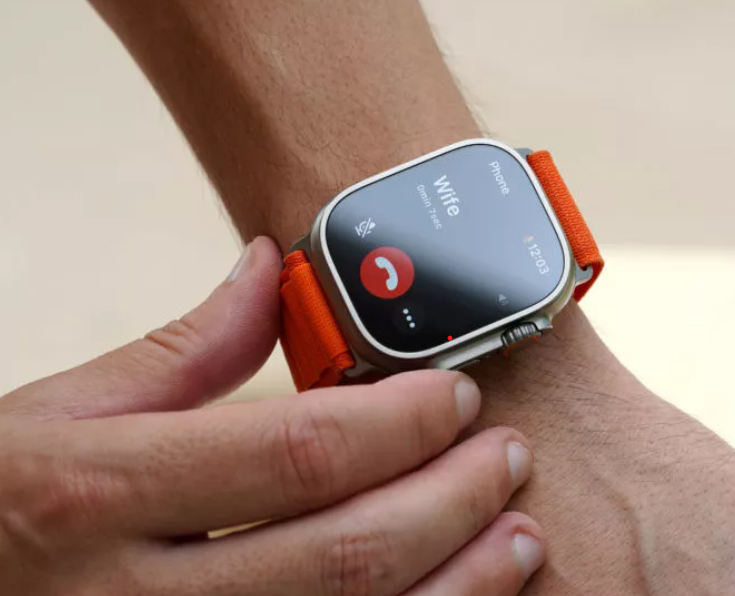 Performance and Software
Running on watchOS 9.0, upgradable to 9.5, the Apple Watch Ultra is powered by the Apple S8 chipset, a dual-core CPU, and a PowerVR GPU. This combination ensures smooth performance and snappy response times, allowing you to navigate through the watch's features with ease.
With 32GB of internal storage, you'll have plenty of space to store your favorite apps, music, and other essential data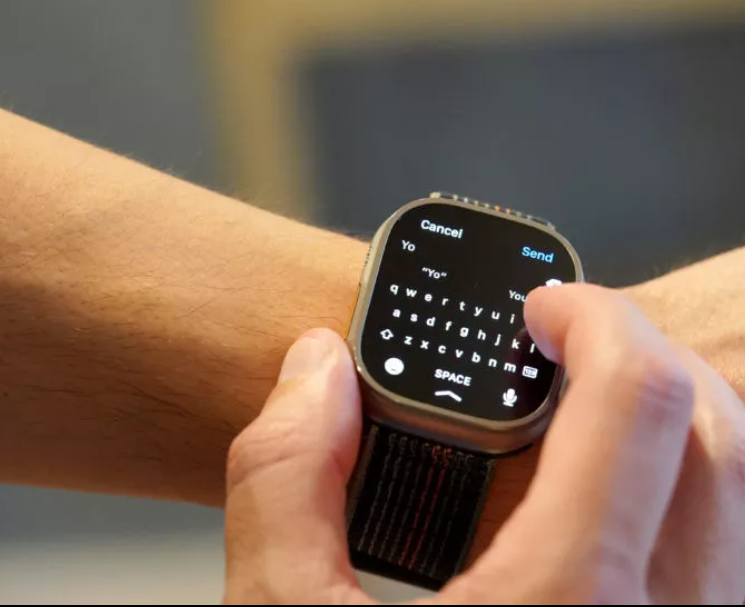 Connectivity
The Apple Watch Ultra supports GSM, HSPA, and LTE networks, enabling you to make calls, send messages, and stay connected even when away from your iPhone. The watch features an eSIM, eliminating the need for a physical SIM card, With Wi-Fi 802.11 b/g/n, dual-band, and Bluetooth 5.3 with A2DP and LE support, you can enjoy seamless connectivity with your iPhone and other compatible devices. The watch's GPS (L1+L5), GLONASS, GALILEO, and BDS positioning systems ensure accurate tracking during outdoor activities.
Health and Fitness Tracking
One of the key highlights of the Apple Watch Ultra is its extensive health and fitness tracking capabilities. Equipped with sensors like an accelerometer, gyro, heart rate monitor, barometer, always-on altimeter, compass, SpO2, and VO2max, the watch provides comprehensive insights into your health and fitness levels.
The watch also supports ECG monitoring, with region-dependent software application support, and the necessary hardware available on all models. This feature is particularly beneficial for individuals with heart conditions as it can detect irregular heart rhythms and potential issues
Temperature Sensing and Depth Gauge
An innovative addition to the Apple Watch Ultra is its temperature sensing feature. It can accurately measure body temperature with 0.01˚ accuracy, making it useful for detecting fever or changes in your body's thermal state.
Additionally, the watch comes with a depth gauge that provides ±1m accuracy, allowing you to track your depth during swimming or diving activities.
Natural Language Command and Ultra Wideband ( USB ) Support
Interacting with the Apple Watch Ultra is made more convenient with natural language commands and dictation, enabling you to control various functions with your voice seamlessly. Moreover, the watch supports Ultra Wideband (UWB) technology, enhancing the precision and range of device-to-device communication.
Battery Life and Charging
The Apple Watch Ultra is equipped with a non-removable Li-Ion 542 mAh battery, which offers decent battery life, especially considering the power-hungry features it packs. The watch supports wireless charging, allowing for hassle-free charging on compatible charging pads.
Colors and Models
The Apple Watch Ultra is available in a stylish Titanium finish, giving it a premium look. The model variants include A2684, A2622, A2859, watch6, and 18, each catering to specific markets and regions.
Conclusion
The Apple Watch Ultra proves to be an exceptional smartwatch, especially for fitness enthusiasts and health-conscious individuals. Its sturdy build, extensive health tracking capabilities, and advanced features make it a standout in the wearable tech market. With its elegant design and top-notch performance, the Apple Watch Ultra is a worthwhile investment for those seeking a premium smartwatch experience. Whether you're an athlete, adventurer, or simply someone looking to lead a healthier lifestyle, the Apple Watch Ultra is sure to meet and exceed your expectations.