Are you in the market for a smartwatch that offers both style and functionality? Look no further than the Noise ColorFit Ultra 3! Packed with a plethora of features, this smartwatch is a game-changer for fitness enthusiasts and tech-savvy individuals alike. In this comprehensive review, we'll delve into every aspect of the ColorFit Ultra 3, from its design and display to its fitness tracking capabilities and connectivity options.
Unboxing
Design and Build: Combining Elegance with Durability
The first thing that catches your eye when you lay your hands on the ColorFit Ultra 3 is its sleek and stylish design. The rectangular, flat shape gives it a modern and sophisticated look, perfect for both casual and formal settings. Crafted from sturdy metal, the watch exudes a premium feel that's built to withstand the rigors of daily wear.
The silicon strap not only ensures comfort during extended usage but also complements the watch's aesthetics. With color options ranging from Jet Black to Teal Blue, Classic Dark Brown to Tan Brown, and even a Silver Elite Edition, you can easily find a variant that resonates with your personal style.
Display: Crystal Clear AMOLED Delight
The ColorFit Ultra 3's display is a visual delight, thanks to its cutting-edge AMOLED technology. With a generous 1.96-inch size, it's a canvas of clarity that boasts an impressive resolution of 410 x 502 pixels. This translates to an exceptional pixel density of 339 ppi (pixels per inch), ensuring that every bit of content displayed is sharp, vivid, and true to life.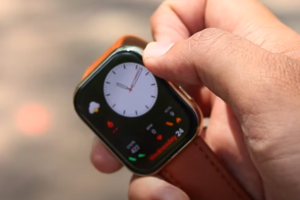 AMOLED technology enhances color vibrancy, contrast ratios, and deep blacks, making images and text pop off the screen with stunning realism. Whether you're checking the time, glancing at notifications, or tracking your fitness progress, the ColorFit Ultra 3's display elevates the user experience to a new level.
Navigating through menus and interacting with the watch is a breeze, thanks to its responsive touch screen. The display is easy to read even in varying lighting conditions, allowing you to stay informed and connected without straining your eyes.
Whether you're a tech enthusiast, a fitness fanatic, or simply someone who appreciates visual excellence, the ColorFit Ultra 3's display is sure to captivate your senses and enhance every aspect of your smartwatch experience.
Water Resistance: Ready for Any Adventure
For those who enjoy an active lifestyle, the ColorFit Ultra 3 is a reliable companion. With an IP68 certification, this smartwatch is water-resistant, safeguarding it against splashes, sweat, and even submersion in shallow water. Whether you're hitting the gym or taking a jog in the rain, you can do so without worrying about damaging your device.
Battery Life: Long-lasting Performance
The ColorFit Ultra 3 houses a 300mAh battery that impressively offers up to 7 days of usage on a single charge. This extended battery life eliminates the need for frequent charging, ensuring that the watch remains operational throughout your busy week.
Fitness Tracking: Your Personal Health Assistant
Equipped with an array of sensors, the ColorFit Ultra 3 excels as a fitness tracker. It accurately monitors your daily activities, including steps taken, distance covered, calories burned, active minutes, and even your heart rate. This data is then presented in a user-friendly format, enabling you to keep a close watch on your health goals.
Sleep Tracking: Enhancing Your Sleep Quality
Understanding the importance of sleep, the ColorFit Ultra 3 offers comprehensive sleep tracking features. It analyzes your sleep patterns, providing insights into the quality of your rest. With information about the hours slept and the various sleep stages you go through, you can make informed decisions to improve your sleep habits.
Smartphone Connectivity: Seamlessly Integrated
The ColorFit Ultra 3 supports Bluetooth v5.1, ensuring seamless connectivity with your Android or iOS smartphone. You can receive notifications directly on your watch, including incoming calls and text messages. The watch also acts as a remote control for your smartphone's music playback, giving you the freedom to switch tracks without reaching for your phone.
Remote Functions: Convenience at Your Fingertips
Imagine misplacing your phone – not an uncommon scenario. With the Find My Phone feature on the ColorFit Ultra 3, you can easily track down your misplaced device. Additionally, you can use the watch to control various aspects of your smartphone, from making and receiving calls to setting alarms and timers, all without taking your phone out of your pocket.
A Multitude of Features: Beyond Fitness
While fitness tracking is a central feature of the ColorFit Ultra 3, it doesn't stop there. This smartwatch offers a range of functions that enhance your daily life. Whether it's setting alarms, using the stopwatch for precise timing, or receiving notifications for your favorite apps, the ColorFit Ultra 3 seamlessly integrates into your routine.
Conclusion: Elevate Your Lifestyle with the ColorFit Ultra 3
In a world where technology is advancing at an unprecedented pace, the Noise ColorFit Ultra 3 stands out as a testament to innovation and user-centric design. From its elegant appearance and robust build quality to its comprehensive fitness tracking and smart features, it's a true companion for individuals who prioritize both style and functionality.

If you're in search of a smartwatch that effortlessly blends into your daily routine while providing insights into your health and enhancing your connectivity, the ColorFit Ultra 3 deserves a spot at the top of your Wishlist. Experience the future of wearable technology with the ColorFit Ultra 3 – your ultimate partner in achieving your fitness and lifestyle goals.
The Noise ColorFit Ultra 3 isn't just a smartwatch; it's a lifestyle upgrade that empowers you to take control of your health, stay connected, and make every moment count.