Introduction
In the ever-evolving world of technology, portable speakers have become an essential accessory for those who seek to elevate their audio experiences on the go. One notable contender in this arena is the Portronics Resound 2, a 15W Bluetooth wireless speaker that promises impressive sound quality, portability, and a range of features to entice any audiophile. In this comprehensive review, we'll dive deep into the features, specifications, and performance of the Portronics Resound 2, exploring what makes it a worthy consideration in the world of portable audio.
Unboxing the Portronics Resound 2: What's in the Package?
When you unbox the Portronics Resound 2, you'll find the speaker itself, a charging cable, and a user guide. This minimalist approach to packaging not only reduces waste but also emphasizes the product's core components.
Design and Build: Merging Aesthetics with Functionality
The Portronics Resound 2 boasts a sleek and modern design that seamlessly integrates into various settings, be it your living room, outdoor picnic, or even your workspace. Its portable nature ensures that you can take your music wherever you go. The stereo channel configuration adds depth to the audio, enhancing your listening experience.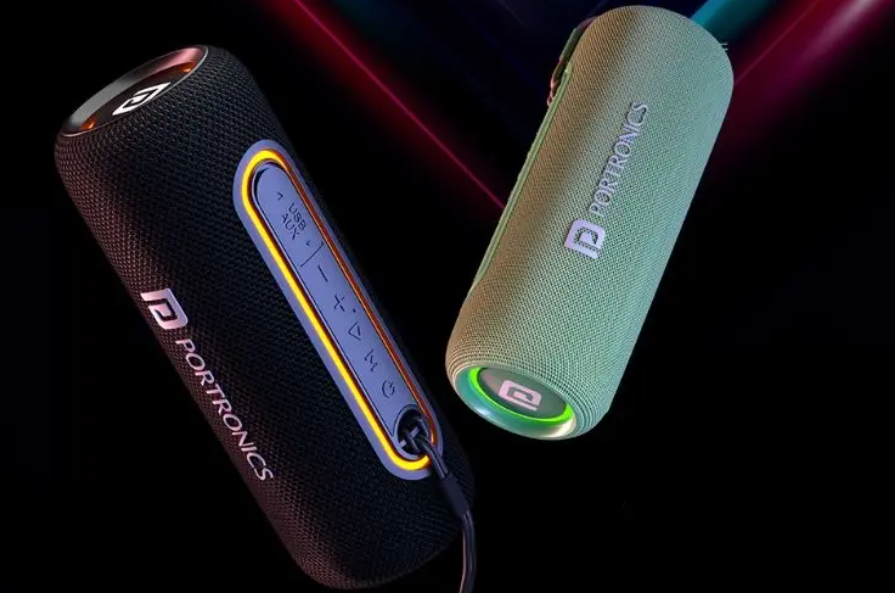 The incorporation of IPX5 water resistance is a noteworthy feature, making the Resound 2 suitable for outdoor adventures or poolside gatherings without the constant worry of water damage. Additionally, the RGB LED lights not only enhance the visual appeal but also add a dynamic element to your music sessions.
Connectivity and Features: Embracing Wireless Freedom
With Bluetooth 5.3 connectivity, the Portronics Resound 2 offers seamless and energy-efficient pairing with your devices. The 10-meter Bluetooth range provides the freedom to control your playlist from a distance without compromising audio quality.
The presence of a microphone adds an extra layer of convenience, transforming the speaker into a hands-free communication device. Whether it's for business calls or catching up with friends, the Resound 2 ensures clear and crisp voice transmission.
Audio Performance: Power and Clarity Combined
One of the standout features of the Portronics Resound 2 is its impressive power output of 15W RMS. This power translates into rich and robust sound that fills your space with immersive audio. The Resound 2 strikes a balance between deep bass and clear highs, catering to various genres of music.
Battery Life: Music On-the-Go
The Resound 2 offers a battery life of up to 5 hours, allowing you to enjoy your favorite tunes without interruption during outings or gatherings. The convenience of not constantly needing to recharge makes it a reliable companion for your adventures.
Additional Functionalities: Beyond Sound
The inclusion of two USB ports adds an extra layer of utility to the Portronics Resound 2. You can conveniently charge your devices on-the-go, eliminating the need to carry multiple chargers. The presence of a headphone jack offers private listening when needed.
Warranty: Your Investment is Protected
Portronics provides a 1-year manufacturer warranty that covers manufacturing defects. It's important to note that physical damages are not covered under the warranty.
Conclusion: Elevate Your Audio Experience with Portronics Resound 2
In a world where audio quality and portability go hand in hand, the Portronics Resound 2 shines as a versatile and feature-rich option. Its powerful sound output, wireless connectivity, water resistance, and thoughtful design make it a compelling choice for those who seek a reliable and stylish portable speaker.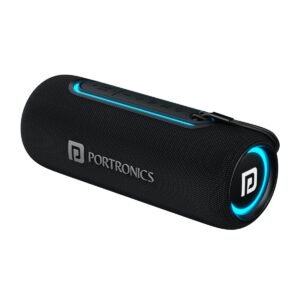 Whether you're a music enthusiast, a frequent traveler, or someone who values quality audio, the Resound 2's blend of aesthetics and functionality offers an excellent value proposition. Embrace the freedom of wireless music, enhance your outdoor gatherings with immersive sound, and experience the future of portable audio with the Portronics Resound 2.