Introduction
In the ever-evolving world of smartphones, POCO, the brand that consistently pushes the boundaries of technology, has unveiled its latest creation – the POCO M6 Pro 5G. This remarkable device comes packed with cutting-edge features that promise to redefine your smartphone experience. From its impressive camera capabilities to its powerful performance and sleek design, the POCO M6 Pro 5G is set to make waves in the market. In this comprehensive review, we'll delve into the key aspects of this device, highlighting its specifications, performance, design, camera prowess, battery life, and much more.
Poco M6 Pro 5G Unboxing
Unveil the Poco M6 Pro 5G experience from a vibrant yellow box, including the handset, USB Type-C cable, SIM tools, guides, TPU cover, and 18W Adapter.
Visual Brilliance: Display and Design
The POCO M6 Pro 5G's design exudes elegance and modernity. With dimensions measuring 168.6 mm in height, 76.2 mm in width, and a slim 8.1 mm thickness, the device feels comfortable to hold and operate with one hand. Weighing in at 199 grams, it strikes the right balance between sturdiness and portability. The device is available in two sophisticated colors: Forest Green and Power Black.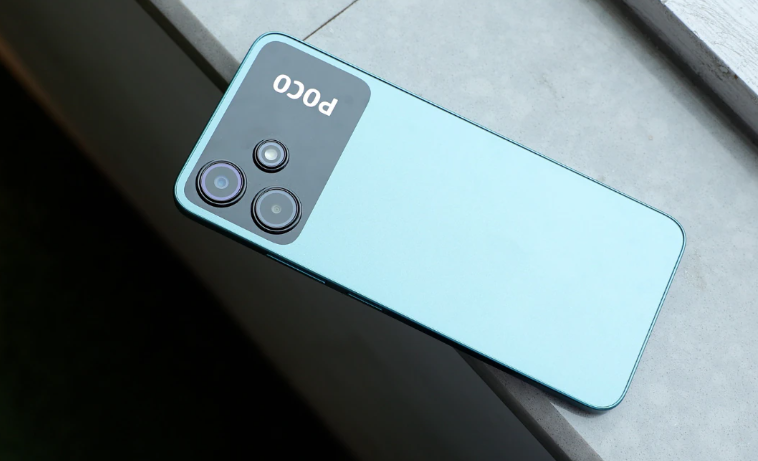 The device boasts a massive 6.79-inch IPS LCD display, perfect for immersive viewing and gaming sessions. With a resolution of 1080 x 2460 pixels and a pixel density of 396 ppi, every image comes to life with vivid colors and sharp details. The 20:9 aspect ratio further enhances your visual experience, making it a delight for streaming movies, playing games, or simply browsing the web.
90Hz refresh rate allows smooth scrolling though it is nowhere when compared to a display with a 120Hz refresh rate. I used the device with a refresh rate set to 90Hz all the time and since it is not adaptive, it doesn't change itself to 60Hz while YouTube browsing. There is a 240Hz touch sampling rate which feels just fine while gaming and other activities.
The only major issue is the inadequate screen brightness in outdoor conditions. The display of the Poco M6 Pro reached 410 nits of maximum brightness which feels ok when indoors but outdoors, under direct sunlight, it becomes very difficult to view the screen even when brightness levels are set at maximum. A slight improvement to this would have made the experience better. Otherwise, the screen is protected by Corning Gorilla Glass so I didn't have to worry about it getting scratched or dented easily.
Performance That Sets the Bar High
Under the hood, the POCO M6 Pro 5G is powered by the Qualcomm Snapdragon 4 Gen 2 chipset, a true testament to POCO's commitment to delivering high-performance devices. This octa-core processor, clocked at 2.2 GHz for its dual-core Kryo and 2 GHz for its hexa-core Kryo setup, ensures seamless multitasking and smooth app launches. The architecture's 64-bit support combined with the 4 nm fabrication process guarantees efficiency and impressive power management, offering you the best of both worlds in terms of performance and energy consumption.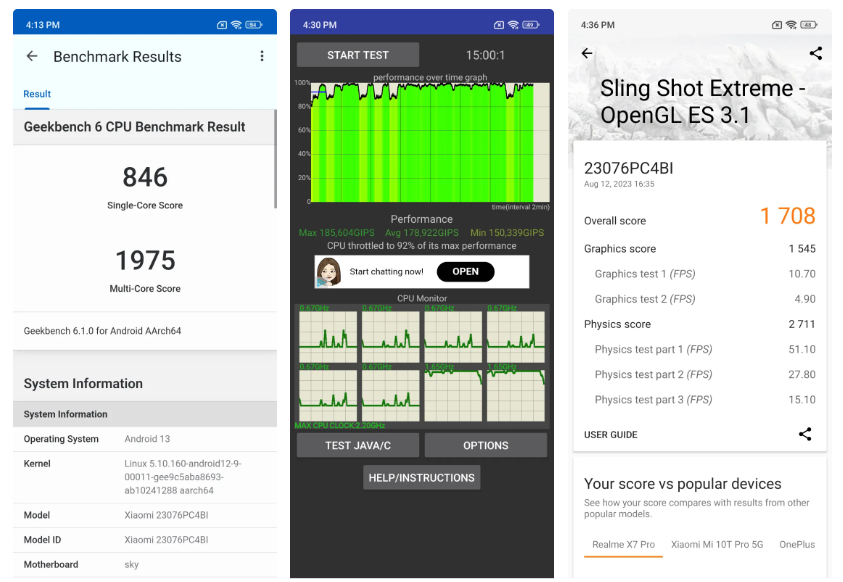 The Adreno 613 GPU further enhances your gaming and multimedia experiences, delivering vibrant graphics and smooth animations. Backed by 4 GB of LPDDR4X RAM, the POCO M6 Pro 5G ensures effortless multitasking, allowing you to switch between applications without a hitch.
POCO M6 Pro 5G Camera: Capturing Moments in Precision
The camera setup on the POCO M6 Pro 5G is nothing short of impressive. Equipped with a dual-camera configuration on the rear, it offers a 50 MP wide-angle primary camera with an aperture of f/1.8. The large 1.28µm pixel size ensures excellent low-light performance, while the 2 MP depth camera adds a professional touch to portrait shots. Autofocus and LED flash further enhance the camera's capabilities.
Let us talk about the primary 50MP lens first. The images from the primary camera show good detailing in daylight. However, the dynamic range could have been better as the highlights look overblown.
In low light, the camera sensor clicks images with very less detail. Switching on the Night Mode does make the images slightly better and using the 50MP mode shows considerable improvement for the same scene. Look at these 3 similar shots clicked in 3 different modes.
The 2MP depth sensor clicks just about ok close-up shots but the images don't have much detailing. There is no autofocus and edge detection is also mediocre. Colors are mostly accurate, in both day and night shots, which is pretty decent for a 2MP lens. The samples below illustrate what I said clearly.
The 8MP selfie camera at the front does its job well as it clicks selfies with natural skin tones and soft details. The subject is kept in focus with the background being blurred out. The images from this 8MP sensor are good enough for social media usage. Overall I wasn't disappointed with this lens but there is nothing to hype either.
The Poco M6 Pro 5G can record 1080p videos at 30fps for both rear and front cameras.
Software
the smartphone runs Android 13 with MIUI 14 on top. The MIUI 14 is loaded with customizations that allow you to make it more personal. The only downside is that the smartphone is also loaded with bloatware. Apps like Moj, Snapchat, LinkedIn, and a bunch of games come pre-installed and make it an extremely crowded experience. Some of these can be removed but Poco M6 Pro is not for you if you are fond of a clean UI experience.
Battery Life and Beyond
The POCO M6 Pro 5G is equipped with a robust 5000 mAh Li-Polymer battery, ensuring that you stay connected and productive throughout the day. The device supports fast charging with an 18W adapter, meaning you can quickly top up your battery and get back to your tasks without delay.
In terms of storage, the device offers 64 GB of internal memory, providing ample space for your apps, photos, videos, and files. If you require more space, you're in luck – the POCO M6 Pro 5G supports expandable memory of up to 1 TB. This versatility ensures you'll never run out of room for your digital life.
Connectivity and Features
The POCO M6 Pro 5G supports dual SIM functionality, with both SIM slots accommodating Nano-sized cards. The device is compatible with 5G networks in India, as well as 4G, 3G, and 2G networks. VoLTE support ensures clear and uninterrupted calls, regardless of your network type.
The device offers a range of connectivity options, including Wi-Fi 5 (802.11 a/b/g/n/ac) at 5GHz for high-speed internet access, Bluetooth v5.0 for seamless device pairing, and GPS with A-GPS and Glonass for accurate navigation. The inclusion of a 3.5 mm audio jack allows you to enjoy your favorite music and media with ease.
Security and Sensors
With a fingerprint sensor positioned on the side of the device, accessing your smartphone becomes both convenient and secure. The POCO M6 Pro 5G also features other essential sensors such as a light sensor, proximity sensor, accelerometer, and compass, contributing to a versatile and user-friendly experience.
POCO M6 Pro 5G Conclusion:
In conclusion, the POCO M6 Pro 5G showcases POCO's dedication to innovation and excellence in the world of smartphones. With its powerful performance, captivating display, impressive camera capabilities, and robust battery life, it's a device that caters to both tech enthusiasts and everyday users alike. The sleek design and thoughtful features make it a valuable addition to POCO's lineup, promising an exceptional smartphone experience.