Introduction: Setting New Standards in Innovation
In a world driven by technological advancements, Xiaomi continues to lead the way with its latest offerings – the Xiaomi Pad 6 Max and the Xiaomi Band 8 Pro. These cutting-edge devices are poised to redefine user experiences and set new benchmarks for performance, design, and functionality. In this comprehensive review, we delve into the intricate details of the Xiaomi Pad 6 Max and Band 8 Pro, exploring their specifications, features, and how they are poised to revolutionize the tech landscape.
Xiaomi Pad 6 Max: Pushing the Boundaries of Excellence
Display: Immersive Visual Delight
The Xiaomi Pad 6 Max boasts a sprawling 14-inch display that is nothing short of breathtaking. With a resolution of 2.8K on an LED screen, users can expect crisp visuals and vibrant colors that bring content to life. The 120Hz refresh rate ensures fluidity in motion, making it ideal for gaming, multimedia consumption, and productivity tasks.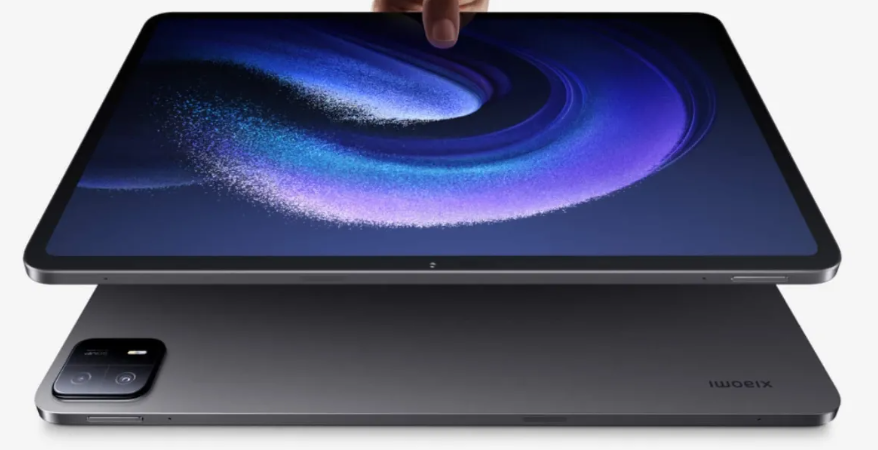 Processing Power: Snapdragon 8+ Gen 1 SoC
At the heart of the Xiaomi Pad 6 Max beats the powerful Snapdragon 8+ Gen 1 SoC, promising lightning-fast performance and seamless multitasking. This chipset is engineered to handle the most demanding applications and graphics-intensive tasks with ease.
Storage and Operating System: Beyond Limits
Users can choose configurations with up to a whopping 12GB of RAM and 1TB of storage, ensuring ample space for all digital needs. The device operates on MIUI 14, providing a user-friendly interface and access to a vast ecosystem of applications.
Camera Capabilities: Unleash Your Creativity
The 20MP front camera and 50MP rear camera on the Xiaomi Pad 6 Max promise stunning photographs and crystal-clear video calls. Capture memories in incredible detail and share them effortlessly.

Battery: Power to Keep You Going
With a massive 10,000mAh battery, the Xiaomi Pad 6 Max eliminates concerns of running out of power during extended usage. This battery capacity ensures that you stay connected and productive throughout the day.
Xiaomi Band 8 Pro: Elevating Fitness Tracking
Display and Design: Style Meets Functionality
The Xiaomi Band 8 Pro features a 1.74-inch AMOLED display with a resolution of 336×480 pixels. This vivid and responsive touchscreen makes navigation a breeze. With 100 watch faces to choose from, you can customize the Band to match your style.
Health Monitoring Features: Your Health, Your Priority
Equipped with advanced health monitoring features, including heart rate tracking, blood oxygen saturation monitoring, and sleep tracking, the Xiaomi Band 8 Pro becomes your personal health assistant. Stay informed about your well-being and make informed lifestyle choices.

In the health and wellness department, the latest fitness tracker offers 150 training modes. It has a SpO2 sensor for blood oxygen monitoring, heart rate monitoring, sleep tracking, and menstrual cycle tracking. The Band 8 Pro is 5ATM water resistant. In the connectivity department, the Band 8 Pro supports NFC and Bluetooth
Connectivity: Seamlessly Connected
Thanks to GNSS, NFC, and Bluetooth 5.3, the Band 8 Pro ensures seamless connectivity with your other devices and simplifies tasks such as contactless payments and navigation.
Battery Life: Endurance Redefined
The Band 8 Pro houses a 289mAh battery that translates to impressive battery life. Now you can focus on your health and fitness goals without constantly worrying about recharging.
Conclusion: Embracing the Future
In conclusion, the Xiaomi Pad 6 Max and Band 8 Pro stand as prime examples of Xiaomi's commitment to innovation and user-centric design. With the Pad 6 Max's remarkable display, processing power, and camera capabilities, users can elevate their entertainment and productivity. On the other hand, the Band 8 Pro empowers individuals to take charge of their health and well-being with its advanced features and stylish design.
As Xiaomi continues to push the boundaries of what's possible in the tech world, these two devices are poised to make a significant impact. Whether you're an avid tech enthusiast, a fitness aficionado, or simply someone who values cutting-edge technology, the Xiaomi Pad 6 Max and Band 8 Pro have something exceptional to offer. Embrace the future with these remarkable devices and experience innovation like never before.