Are you in search of a smartwatch that seamlessly combines style and functionality? Look no further than the Fire-Boltt Topaz. With its impressive array of features and elegant design, the Fire-Boltt Topaz stands out as a remarkable choice in the world of smart wearables. In this comprehensive review, we'll delve into the various aspects that make the Fire-Boltt Topaz a top-tier smartwatch.
Introduction to the Fire-Boltt Topaz Smartwatch
The Fire-Boltt brand has consistently delivered innovative and high-quality tech products, and the Topaz smartwatch is no exception. This smartwatch boasts an array of features that cater to both your technological needs and your fashion preferences. Let's explore what sets the Fire-Boltt Topaz apart.
Design and Display: Merging Elegance with Technology
The Fire-Boltt Topaz showcases a 1.3-inch HD Display with a resolution of 240 x 240 pixels. This ensures crystal-clear visuals for all your interactions. The touchscreen is enhanced with 2.5D Curved Glass, adding a touch of sophistication to the watch's aesthetics. Encased in a metal body, the Topaz exudes durability and style, making it suitable for various occasions.
Customization and Comfort
The watch's strap, made from standard 22 mm leather, not only adds comfort to extended wear but also offers a customizable aspect. You can effortlessly switch out the strap to match your outfit or mood, enhancing the watch's overall versatility.
Seamless Compatibility and Connectivity
The Fire-Boltt Topaz is designed to work harmoniously with both Android and iOS devices. With compatibility ranging from Android 4.4+ to iOS 9.0+, a wide range of users can experience its seamless integration. Bluetooth 5.0 ensures a stable and efficient connection between the smartwatch and your smartphone.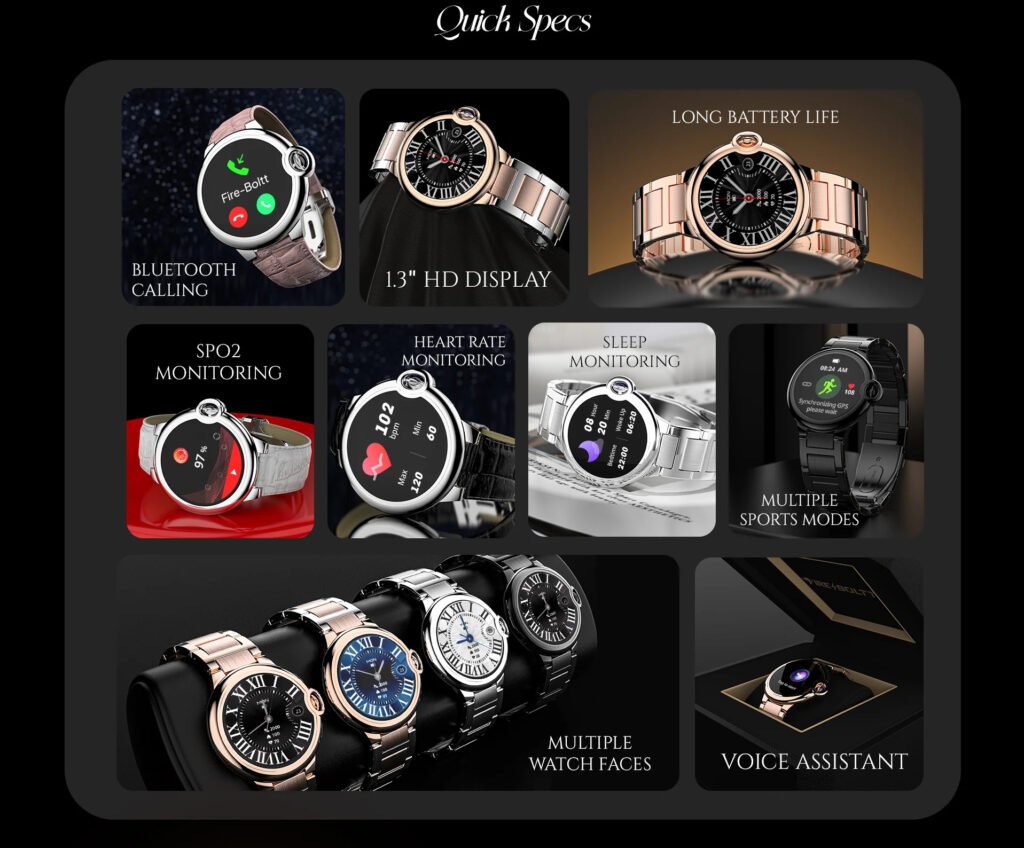 Empowering Features for a Healthier Lifestyle
The Fire-Boltt Topaz goes beyond being a mere smartwatch; it's a health and fitness companion. Equipped with a heart rate sensor, SpO2 sensor, blood pressure sensor, accelerometer, and gyroscope, this smartwatch provides comprehensive health monitoring. Keep track of your heart rate, blood oxygen levels, blood pressure, and even your stress levels throughout the day.
Fitness Tracking Reimagined
With over 100 sports modes, including running, cycling, yoga, swimming, cricket, and more, the Topaz caters to fitness enthusiasts of all types. Whether you're a seasoned athlete or someone embarking on a fitness journey, this smartwatch offers insights into your workouts, helping you refine your routines.
Stay Connected and Informed
Staying connected is effortless with the Fire-Boltt Topaz. It supports Bluetooth calling, complete with a built-in speaker and microphone. Receive call, message, and app alerts directly on your wrist, so you never miss an important update. The music control feature lets you manage your smartphone's music playback, and the remote camera shutter ensures you capture the perfect moments with ease.
Personalization at Your Fingertips
Choose from a vast collection of over 100 cloud-based watch faces to suit your mood and style. And if that's not enough, the Topaz allows you to create and upload your own custom watch face, adding a personal touch to your smartwatch experience.
Seamless App Integration
The Fire-Boltt App, available on both the Google Play Store and Apple App Store, serves as the hub for your Topaz smartwatch. Receive detailed health reports and insights, set personalized health and fitness goals, and track your progress over time. The app enhances your experience by bringing together all the data collected by the smartwatch.
Long-lasting Battery Life and Water Resistance
With a battery capacity of 250 mAh, the Topaz offers an impressive battery life of up to 7 days, depending on usage. Additionally, its IP68 water resistance ensures protection against water damage up to 1.5 meters for 30 minutes, making it suitable for everyday wear and various activities.
The Verdict: Where Style Meets Technology
In a world of smart wearables, the Fire-Boltt Topaz stands out as a true gem. Its seamless blend of style, functionality, and health-oriented features makes it a valuable companion for modern individuals. Whether you're tracking your fitness journey, staying connected on the go, or simply adding a touch of elegance to your outfit, the Fire-Boltt Topaz excels on all fronts. Explore the future of smartwatches with the Fire-Boltt Topaz and experience the perfect harmony between technology and style.