Introduction
In today's fast-paced world, staying connected is crucial, and that's where a reliable power bank comes into play. We had the opportunity to test out the Stuffcool Palm Smallest 10000mAh QC PD 20W Type C Super Premium Mini Power bank, and we're excited to share our thoughts with you. In this review, we'll delve into the key features, performance, and overall value of this compact power bank from Stuffcool.
Unboxing and Package Contents
Upon unboxing, you'll find the Stuffcool Palm Smallest 10000mAh power bank along with its matching charging cable. The attention to detail in terms of color coordination adds a touch of elegance to the package. Additionally, the inclusion of two units in the sales package further enhances the value proposition, allowing you to keep one at home and one in your bag for ultimate convenience.
Compact Power for On-the-Go Charging
The Stuffcool Palm power bank lives up to its name as one of the smallest 10000mAh power banks on the market. Its sleek design and compact size make it a perfect companion for your mobile devices. Whether you're traveling, commuting, or simply out and about, the Palm power bank easily slips into your pocket, ensuring you're always prepared for those low battery moments.
Fast and Efficient Charging
Equipped with Quick Charge (QC) and Power Delivery (PD) technology, the Stuffcool Palm power bank offers impressive charging capabilities. With a power output of 20W PD and 18W USB A, you can expect rapid charging for your devices. The claim of charging an iPhone 50% in just 30 minutes is no exaggeration. This feature alone can be a game-changer, especially when time is of the essence.
Dual Ports for Convenience
The power bank features two output ports, ensuring you can charge multiple devices simultaneously. The USB Type-C and USB A ports provide versatility and compatibility with a wide range of devices, including smartphones, tablets, and more. The included charging cable, in the same vibrant yellow color as the power bank, is a thoughtful addition that completes the package.
Superior Build Quality and Design
The Stuffcool Palm power bank not only performs well but also boasts a premium build quality. The device is designed to withstand the rigors of daily use while maintaining its stylish appeal. The yellow color variant we tested is not only visually appealing but also adds a touch of uniqueness to your accessory collection.
Warranty and Customer Support
Stuffcool stands by the durability and reliability of the Palm power bank by offering a 6-month warranty along with lifetime customer support. This level of assurance reflects the brand's commitment to delivering quality products that are built to last. Knowing that you have access to reliable customer support adds peace of mind to your purchase.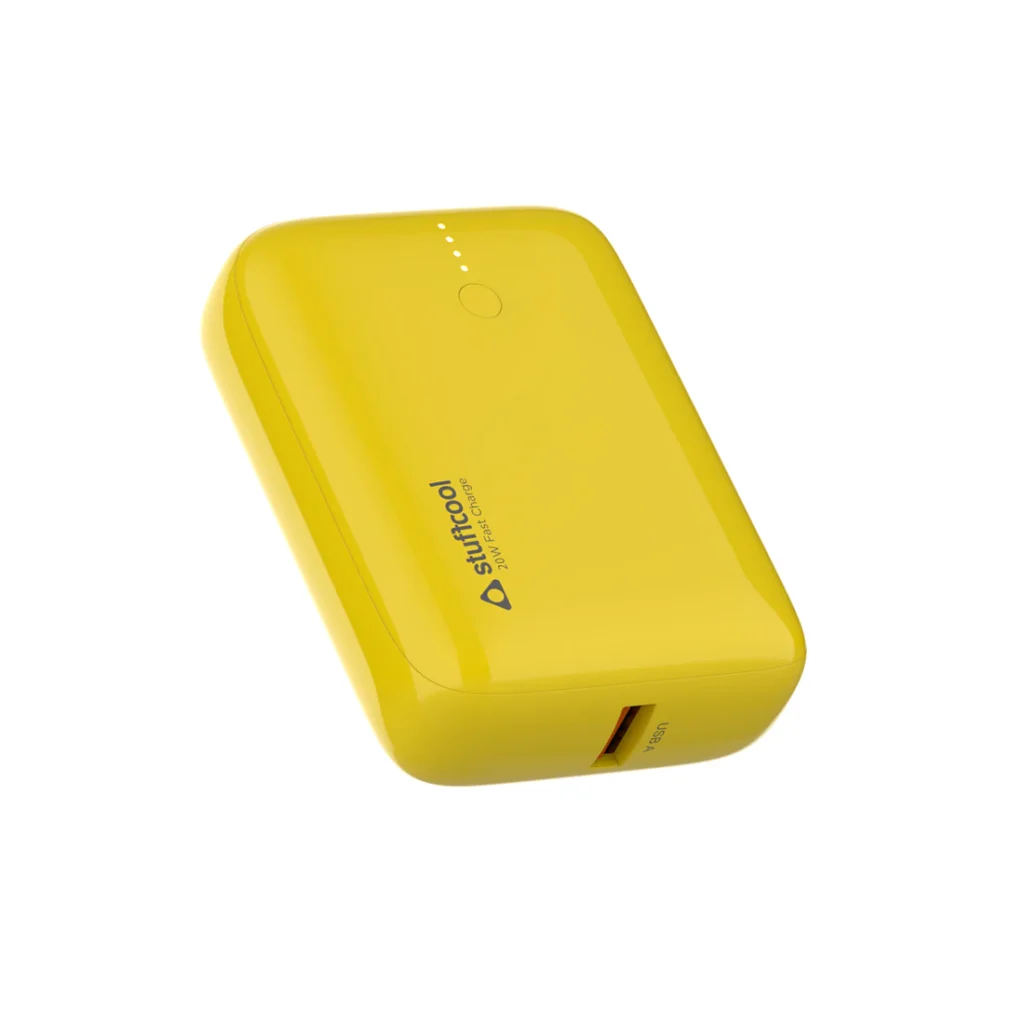 Conclusion: Power in Your Pocket
In conclusion, the Stuffcool Palm Smallest 10000mAh QC PD 20W Type C Super Premium Mini Powerbank is a game-changer for those who value portability and fast charging. Its compact size, efficient charging technology, and thoughtful design make it a must-have accessory for modern lifestyles. Whether you're a frequent traveler, a student, or a professional, this power bank will ensure that you stay connected without interruptions. With its impressive features and sleek design, the Stuffcool Palm power bank is a true winner in the world of mobile accessories.
Upgrade your charging game with Stuffcool Palm! Get yours today and experience the convenience of having reliable power at your fingertips.