In the ever-evolving world of technology, Apple continues to set new standards with its innovative lineup of smartphones. The latest addition to their illustrious collection is the iPhone 15 Pro Max, a device that promises to redefine your smartphone experience. In this comprehensive blog, we'll delve deep into the iPhone 15 Pro Max's remarkable features, from its stunning design to its powerhouse performance. So, fasten your seatbelts as we embark on a journey through the world of the iPhone 15 Pro & iPhone 15 Pro Max.
Design That Dazzles
The iPhone 15 Pro Max comes in four exquisite finishes: Black Titanium, White Titanium, Blue Titanium, and Natural Titanium. Each finish exudes elegance and sophistication, allowing you to make a statement that reflects your style.
Titanium Design with Ceramic Shield and Textured Matt Glass
Apple has spared no expense in crafting the iPhone 15 Pro & Pro Max. Its titanium design not only makes it exceptionally durable but also incredibly lightweight. The Ceramic Shield front provides added protection against accidental drops, while the textured matt glass back ensures a secure grip and a premium look.
Powerhouse Performance
A17 Pro Chip with Cutting-Edge Technology
Under the hood, the iPhone 15 Pro Max is powered by the A17 Pro chip, a true testament to Apple's commitment to pushing the boundaries of mobile technology. With a new 6-core CPU, 6-core GPU, and a 16-core Neural Engine, this smartphone delivers unmatched processing power, ensuring seamless multitasking and lightning-fast performance.
Stunning Super Retina XDR Display
6.7-inch All-Screen OLED Display with ProMotion Technology
The iPhone 15 Pro Max boasts a stunning 6.7-inch Super Retina XDR display that will leave you mesmerized. With a resolution of 2796×1290 pixels and ProMotion technology, this all-screen OLED display offers adaptive refresh rates of up to 120Hz, ensuring smooth and fluid visuals, whether you're browsing the web, gaming, or watching videos.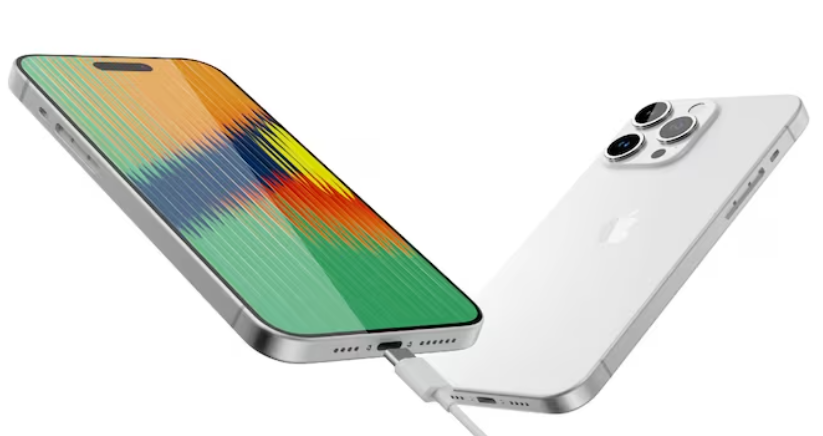 HDR Display with True Tone and Wide Color
Experience the magic of HDR with the iPhone 15 Pro Max. Its True Tone technology adapts to your environment for a more comfortable viewing experience, while support for wide color (P3) ensures vibrant and true-to-life colors.
Capture Moments Like a Pro
Pro Camera System with Advanced Features
The Apple 15 boasts a versatile pro camera system that lets you capture moments in stunning detail. The 48MP Main camera, 12MP Ultra Wide camera, and dual Telephoto lenses enable you to explore your creativity with a wide range of photography options.
Video Recording That Redefines Excellence
Not just a photography powerhouse, the iPhone 15 Pro Max is also a video recording marvel. From 4K video recording at 60 fps to ProRes video recording and HDR video recording with Dolby Vision, it opens up a world of possibilities for videographers and content creators.
Immersive True Depth Camera
12MP True Depth Camera with Advanced Features
The True Depth camera on the smartphone lets you take stunning selfies with features like Portrait Lighting and Animoji. It also excels in low-light conditions, thanks to Night mode, ensuring your selfies are always Instagram-ready.
Unmatched Battery Life
Long-Lasting Power to Keep You Going
With the iPhone, you won't have to worry about running out of battery during your busy day. Enjoy up to 29 hours of video playback and up to 95 hours of audio playback, making it the perfect companion for entertainment on the go.
Cutting-Edge Technology
Face ID and LiDAR Scanner for Enhanced Security
Your privacy and security are paramount, and the iPhone ensures that with its Face ID and LiDAR Scanner. These features not only make your device secure but also enhance its functionality.
Ready for the Future with iOS 17
Operating System That Sets New Standards
The Apple 15 comes with iOS 17, the latest operating system from Apple, packed with new features and improvements that will enhance your overall user experience.
Dual eSIM Support for Connectivity
Stay Connected with Dual SIM Support
With dual eSIM support, the iPhone 15 Pro Max offers unparalleled connectivity options, allowing you to seamlessly manage your personal and professional contacts.
Conclusion
The iPhone 15 Pro Max is a true technological marvel that combines stunning design with unmatched performance. Whether you're a photography enthusiast, a videographer, or simply someone who demands the best from your smartphone, the Smartphone is designed to exceed your expectations. Make a statement with your choice of finish, enjoy the breathtaking display, capture memories like never before, and stay connected with the latest technology.
For more tech reviews and the latest updates, stay tuned to nois-tech.com., your one-stop destination for all things tech!