In today's fast-paced world, wireless earbuds have become an essential accessory for everyone from fitness enthusiasts to commuters. They offer convenience, style, and above all, exceptional sound quality. The HOPPUP D505 TWS Earbuds Earphones are making waves in the market, and in this comprehensive review, we'll dive deep into their design, sound performance, connectivity, and more.
Box: Unboxing the HOPPUP D505
The HOPPUP D505 TWS Earbuds come in a sleek rectangular box with rounded corners. The matte black finish is complemented by subtle orange accents that add a touch of elegance. Inside the box, you'll find the earbuds, a charging case, and a Type-C charging cable. Additionally, there's a lanyard loop for added convenience if you have one on hand.
Design: Aesthetics Meets Functionality
The Earphones themselves are compact and stylish. They sport a matte finish on the inside and a glossy exterior, making them not only look good but also comfortable to wear. LED indicators and a microphone are discreetly integrated into the buds, showcasing the HOPPUP branding. The case features a digital display on the right side, allowing you to easily check the battery status.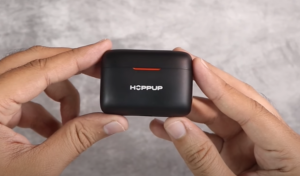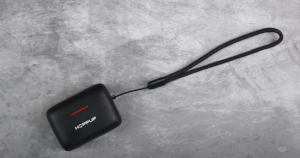 Connectivity: Active Engagement
HOPPUP https://www.hoppup.in/products/hoppup… has equipped the D505 with Bluetooth 5.3 technology, offering a reliable connection within a range of 12-15 meters. While pairing might not be lightning-fast, it's hassle-free. The earbuds support monopod usage, meaning you can use either earbud independently without any issues.
Sound: An Audiophile's Delight
The HOPPUP D505 TWS Earbuds boast 10mm drivers that deliver impressive bass without overpowering the mids and highs. The result is a balanced and clear audio experience. The trebles are crisp, making vocals and instruments shine. Even at high volumes, distortion is minimal, and there's very little sound leakage, ensuring a pleasant listening experience.
Touch Controls: Intuitive Navigation
The touch controls on the D505 Earphones are comprehensive, supporting play, pause, next, previous, volume control, and even voice assistants like Google Assistant and Siri. Notably, a unique feature is the ability to activate Gaming Mode (Rage Mode) by tapping the earbuds five times, reducing latency to just 40ms for an exceptional gaming experience.
Mic Test: Crystal-Clear Communication
The D505 TWS Earbuds come equipped with dual MEMs technology microphones. "Hush Mode" minimizes background noise, resulting in excellent call quality even in noisy environments.
Battery: Power That Lasts
The earbuds themselves have a 30mAh battery, while the charging case packs a 250mAh battery. The brand claims 8 hours of playtime for the buds, and real-world usage confirms approximately 6 hours. The case, touted for 50 hours of battery life, easily surpasses this in real-world usage, offering more than 40 hours. Thanks to the Type-C port and fast charging support, a quick 10-minute charge provides up to 90 minutes of playtime.
Verdict: Unbeatable Value for Money
In conclusion, the HOPPUP D505 TWS Earbuds offer unbeatable value for money at just 699rs. Their stylish design, impressive sound quality, comprehensive touch controls, and exceptional battery life make them a must-have for anyone in need of reliable wireless earbuds. These earbuds cover you whether you're a music enthusiast, a gamer, or someone on the go. Don't hesitate—go for it!
For the latest tech reviews and updates, keep following nois-tech.com your ultimate source for all things tech!