Introduction:
In the ever-evolving world of smartphones, Xiaomi has once again raised the bar with its latest offering, the Xiaomi Redmi Note 13 Pro Plus 5G. Scheduled for release on September 21, 2023, this device promises to redefine your smartphone experience. In this comprehensive review, we'll delve into its design, performance, camera capabilities, battery life, and more, to give you a complete picture of what to expect from the Redmi Note 13 Pro Plus 5G.
Design and Build:
"Stunning Design That Captivates"
The Redmi Note 13 Pro Plus 5G boasts a sleek and modern design. It measures 161.4 mm in height, 74.2 mm in width, and has a thickness of just 9 mm, making it both comfortable to hold and visually appealing. With a weight of 203.9 grams, it strikes a perfect balance between substance and style.
Display:
"Immersive Visuals with AMOLED Brilliance"
The device sports a 6.67-inch AMOLED display with a resolution of 1220 x 2712 pixels. The 20:9 aspect ratio and pixel density of 446 ppi ensure crisp and vibrant visuals.
The screen-to-body ratio of 89.69% and Corning Gorilla Glass protection guarantee durability and an uninterrupted viewing experience. Notably, Xiaomi Redmi Note 13 Pro the 144 Hz refresh rate provides silky-smooth interactions.
Performance:
"Power and Efficiency with MediaTek Density 7200"
Under the hood, the Note 13 Pro Plus 5G is powered by the MediaTek Dimensity 7200 chipset, built on a 4 nm architecture. This octa-core processor, featuring Cortex A715 and Cortex A510 cores, offers lightning-fast performance. The Mali-G610 MC4 GPU ensures smooth graphics, making it ideal for gaming and multitasking. Coupled with 8 GB of LPDDR5 RAM, this smartphone handles any task with ease.
Camera:
"Unleash Your Photography Skills"
The Redmi Note 13 Pro Plus 5G sports an impressive triple-camera setup. The star of the show is the 200 MP primary camera with an f/1.65 aperture, promising stunningly detailed photos.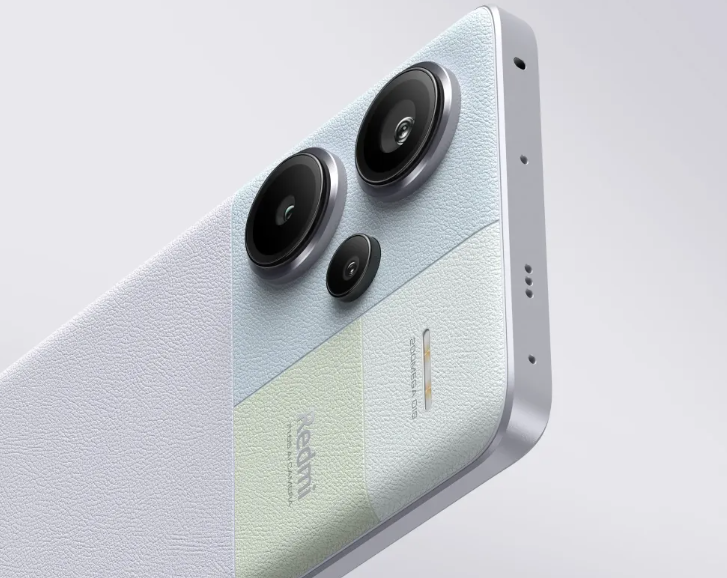 The 8 MP ultra-wide-angle camera and 2 MP macro camera provide versatility for various photography scenarios. Features like autofocus, OIS, and a range of shooting modes ensure that your creativity knows no bounds. On the front, a 16 MP wide-angle camera captures selfies and video calls with clarity.
Battery Life:
"All-Day Powerhouse with 5000 mAh Battery"
One of the standout features of this smartphone is its 5000 mAh Li-Polymer battery. It's not just about capacity; it's about intelligent power management. Additionally, the Redmi Note 13 Pro Plus 5G supports lightning-fast 120W fast charging, ensuring you spend less time tethered to an outlet and more time enjoying your device.
Network and Connectivity:
"Connectivity That Keeps You Ahead"
This Xiaomi device supports 5G in India, ensuring you're prepared for the future of mobile connectivity. It also supports 4G, 3G, and 2G networks, making it versatile for use in various regions. With dual SIM slots, Wi-Fi 4, Bluetooth 5.1, NFC, and USB Type-C connectivity, you're never short of options to stay connected.
Multimedia and Sensors:
"Entertainment and Security at Your Fingertips"
With a loudspeaker and a 3.5 mm audio jack, the Xiaomi Redmi Note 13 Pro offers a versatile audio experience. It also features a side-mounted fingerprint sensor for quick and secure access. Other sensors include light, proximity, accelerometer, compass, and gyroscope for enhanced functionality.
Conclusion:
In a rapidly evolving market, the Xiaomi Redmi Note 13 Pro Plus 5G stands out as a true contender. With its captivating design, stunning display, powerful performance, versatile camera system, long-lasting battery, and comprehensive connectivity options, it's a smartphone that's ready to take on the future. Prepare to be amazed when it launches on September 21, 2023.
For more tech reviews and the latest updates, stay tuned to nois-tech.com., your one-stop destination for all things tech!