Introduction
In today's fast-paced world, staying connected and monitoring your health has never been easier, thanks to the latest technological innovations. One such innovation is the Wings Urbana smartwatch, equipped with a remarkable 2.01″ HD IPS LCD screen, Bluetooth calling, and a host of features to enhance your daily life. In this comprehensive blog post, we'll delve into the incredible features of the Wings Urbana and explore how it can revolutionize your wearable tech experience.
A Visual Delight: 2.01″ HD IPS LCD Screen
"Wings Urbana's Stunning 2.01″ HD IPS LCD Screen"
The Wings Urbana boasts a visually striking 2.01″ HD IPS LCD screen with a resolution of 240 x 280 pixels, ensuring vivid and crystal-clear visuals. With a remarkable brightness of 550 nits and a smooth 60Hz refresh rate, this Smartwatch provides an immersive viewing experience whether you're checking notifications or tracking your fitness progress.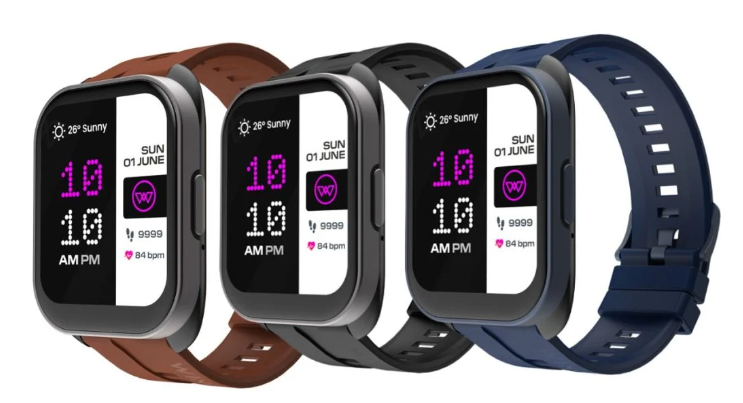 Customization at Your Fingertips: 200+ Watch Faces
"Personalize Your Style with 200+ Customizable Watch Faces"
Express your unique style with over 200 customizable watch faces. Whether you prefer a classic analog look or a futuristic digital design, Wings Urbana has the perfect face to match your mood and outfit.
Stay Connected Anytime, Anywhere: Bluetooth Calling Support
"Seamless Communication with Bluetooth Calling on Wings Urbana"
The Wings Urbana takes connectivity to the next level with Bluetooth calling support. You can easily answer or reject calls directly from your wrist, making it convenient to stay in touch without reaching for your smartphone. The quick dial pad further simplifies making calls on the go.
Elevate Your Fitness Journey: 130+ Sports Modes
"Achieve Your Fitness Goals with 130+ Sports Modes"
Whether you're a seasoned athlete or just starting your fitness journey, Wings Urbana has you covered with over 130 sports modes. From running and cycling to yoga and swimming, this smartwatch can track your performance in various activities.
Your Virtual Assistant: Voice Assistant Support
"Effortless Assistance with Voice Support on Wings Urbana"
With voice assistant support, you can access information, set reminders, and perform tasks hands-free. Just speak your commands, and Wings Urbana's built-in voice assistant will assist you with your requests.
Durable and Reliable: Dust and Water Resistant (IP68)
"Wings Urbana: Your Rugged Companion with IP68 Rating"
Wings Urbana is designed to withstand the elements with an IP68 rating, making it dust and water-resistant. You can wear it with confidence during workouts, outdoor adventures, or even in adverse weather conditions.
Health at Your Fingertips: Health Monitoring Features
"Prioritize Your Health with Wings Urbana's Health Monitoring"
Wings Urbana is not just a smartwatch; it's a health companion. It offers comprehensive health monitoring features, including:
Heart Rate Monitoring: Keep track of your heart health in real time.
SpO2 Monitoring: Monitor your blood oxygen levels for a holistic view of your well-being.
Daily Activity Tracking: Stay motivated by monitoring your daily steps and activities.
Menstrual Tracker: A useful tool for tracking and managing your menstrual cycle.
Enhanced Functionality: Other Features
"Beyond the Basics: Exploring Wings Urbana's Additional Features"
Wings Urbana goes the extra mile with a range of additional features, including:
Hydration Reminder: Stay hydrated throughout the day with timely reminders.
Raise-to-Wake Functionality: Activate the screen with a simple wrist movement.
Do Not Disturb Mode: Stay focused during meetings or restful moments.
E-Card Support: Access important information at your fingertips.
Password Lock: Keep your data secure and private.
Find Watch Phone Support: Locate your paired phone with ease.
Calculator: Perform quick calculations on your wrist.
Camera Control: Capture photos remotely.
5 Menu UI Options: Customize your watch's user interface.
SOS Functionality: Send distress signals when in need.
Stress Measurement: Monitor your stress levels and practice mindfulness.
Long-Lasting Power: Battery Life
"Power-Packed Performance: Wings Urbana's Battery Life"
Wings Urbana offers impressive battery life, with up to 7 days of usage on a single charge. Even with Bluetooth calling enabled, you can expect up to 3 days of uninterrupted use, ensuring your smartwatch is ready whenever you need it.
Conclusion
The Wings Urbana smartwatch is a game-changer in the world of wearables. With its stunning display, Bluetooth calling capabilities, and a plethora of health and fitness features, it caters to the needs of tech-savvy individuals who want both style and substance. Whether you're a fitness enthusiast, a busy professional, or someone who simply values staying connected, Wings Urbana has something to offer. Elevate your wearable tech experience today with Wings Urbana, available now at www.nois-tech.