In our fast-paced world, keeping up with smartphone tech is crucial. The Motorola Edge 40 Neo, launched on Sep 28, 2023, excites tech enthusiasts. Its impressive specs, stunning design, and innovation promise a market game-changer. In this review, we explore its design, display, performance, camera, and connectivity
Design and Build
Sleek and Stylish The Motorola Edge 40 Neo boasts a sleek and stylish design that is sure to turn heads. With dimensions of 159.6mm in height, 72mm in width, and a mere 7.9mm in thickness, this smartphone is remarkably slim and comfortable to hold. Weighing in at just 170 grams, it's lightweight without compromising on durability.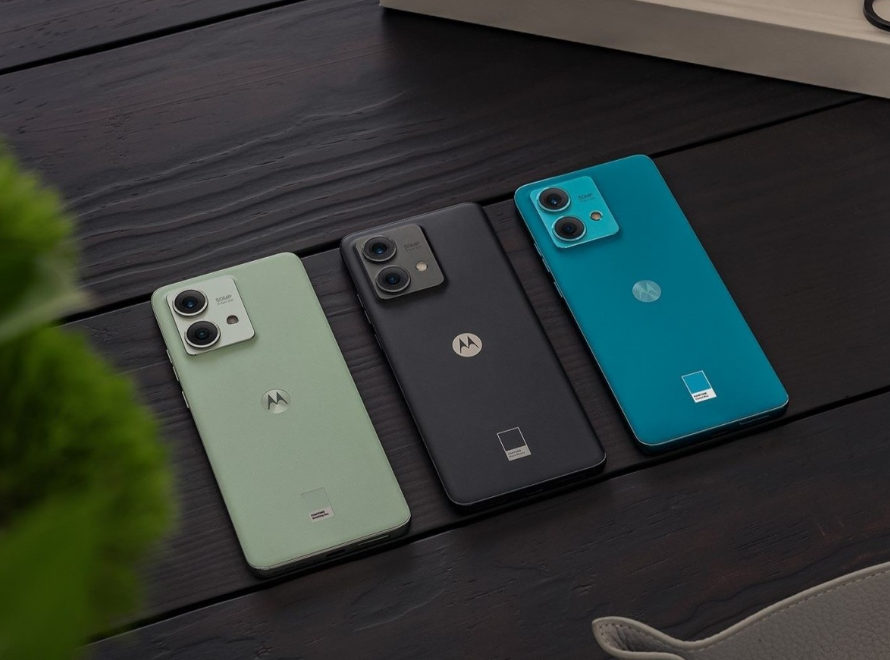 Vibrant Color Options Available in three captivating colors – Soothing Sea, Caneel Bay, and Black Beauty – you can choose a shade that suits your personality and style.
Waterproof and Dustproof Motorola has ensured that the Edge 40 Neo can withstand the elements. it's waterproof with an IP68 rating for 1.5m/30min and dustproof, ensuring your phone stays pristine in challenging environments.
Display
Immersive P-OLED Display The 6.55-inch P-OLED display of the Motorola Edge 40 Neo is nothing short of breathtaking. At 1080 x 2400 pixels and a 20:9 aspect ratio, expect vibrant visuals with top-notch color accuracy.
High Brightness and HDR Support One standout feature of this display is its remarkable brightness, with a peak of 1300 nits. Whether you're using your phone indoors or outdoors, under direct sunlight, you'll have no trouble viewing your content. Additionally, it supports HDR 10+ for a more immersive viewing experience.
Smooth Scrolling with 144Hz Refresh Rate The Edge 40 Neo takes your smartphone experience to the next level with its 144Hz refresh rate. Scrolling through apps, websites, and social media has never been smoother, making for an exceptionally responsive touchscreen experience.
Performance
Powerful MediaTek Dimensity 7030 Chipset Under the hood, the Motorola Edge 40 Neo runs on the MediaTek Dimensity 7030 chipset, an octa-core processor with dual-core Cortex A78 CPUs at 2.5 GHz and hexa-core Cortex A55 CPUs at 2 GHz, all on a 64-bit architecture. This ensures snappy performance and efficient multitasking.
Mali-G610 MC3 GPU Gaming and graphics-intensive tasks are a breeze with the Mali-G610 MC3 GPU, providing excellent graphical performance.
Featuring a generous 8GB of LPDDR4X RAM, you can seamlessly run multiple apps simultaneously without experiencing any lag or slowdown.
Battery
5000mAh Battery with Turbo Power Charging The Motorola Edge 40 Neo packs a substantial 5000mAh Li-Polymer battery. Not only does it offer all-day battery life, but it also supports Turbo Power charging at 68W, delivering a 50% charge in just 15 minutes. Say goodbye to long charging times.
Storage and Connectivity
128GB Internal Storage With 128GB of internal UFS 2.2 storage, you'll have ample space for your apps, photos, videos, and files.
The Edge 40 Neo supports 5G connectivity in India, providing blazing-fast speeds for streaming, gaming, and browsing.
The smartphone features dual SIM slots compatible with nano-SIM cards for seamless personal and work number management.
Wi-Fi 6E and NFC bring the latest in wireless connectivity and enable contactless payments and data sharing.
Multimedia
Immersive Audio Experience rich and immersive audio with stereo speakers and Dolby Atmos support. Whether you're watching movies or playing games, the audio quality won't disappoint.
Fingerprint Sensor and Other Sensors The on-screen optical fingerprint sensor ensures quick and secure access to your device. In addition, the Edge 40 Neo features a range of other sensors, including a light sensor, proximity sensor, accelerometer, compass, and gyroscope.
Conclusion
In a rapidly evolving smartphone market, the Motorola Edge 40 Neo stands out as a true contender. Its sleek design, stunning display, powerful performance, and impressive camera capabilities make it a top choice for tech enthusiasts and smartphone users alike. With 5G connectivity, rapid charging, and a host of other features, this smartphone is poised to make a significant impact when it hits the market on September 28, 2023.
Stay tuned for more updates and in-depth reviews as we explore the world of technology and innovation on nois-tech.com.
Consider linking to the official Motorola website for more information on the Motorola Edge 40 Neo: Motorola Official Website