Introduction
In the fast-paced world of wearable technology, the Fire-Boltt Eclipse smartwatch has emerged as a shining star, offering a compelling combination of style, features, and performance. In this comprehensive review, we will delve deep into the key aspects of the Fire-Boltt Eclipse, exploring its design, display, battery life, compatibility, sensors, activity tracking capabilities, and additional features. Whether you're a fitness enthusiast or a tech-savvy individual, this smartwatch promises to be your ideal companion.
Design That Captivates
"Fire-Boltt Eclipse: A Stylish Circular Design"
The Fire-Boltt Eclipse boasts a circular, flat design that sets it apart from the competition. With a mere weight of 36 grams and a comfortable silicone strap, this smartwatch is designed for all-day wear. It's available in three elegant colors: Black, Gold Pink, and Silver Black. The attention to detail is evident in its aesthetic appeal.
Dazzling Digital Display
"Fire-Boltt Eclipse Display: Crystal Clear AMOLED"
The 1.43-inch AMOLED screen with a resolution of 466 x 466 pixels offers a pixel density of 461 ppi, ensuring sharp and vibrant visuals. Whether you're checking notifications or tracking your fitness progress, the Fire-Boltt Eclipse's display does not disappoint.
Power-Packed Battery Life
"Fire-Boltt Eclipse Battery: Up to 5 Days of Use"
Equipped with a 230mAh battery, the Fire-Boltt Eclipse ensures that you won't be constantly reaching for the charger. With a battery life of up to 5 days, it keeps up with your active lifestyle without interruption.
Seamless Connectivity
"Fire-Boltt Eclipse Connectivity: Stay Connected"
The Fireboltt Eclipse offers seamless connectivity with both Android and iOS devices via Bluetooth. You can stay in touch with your smartphone, receive calls, and even locate your phone when it's misplaced.
Sensors for Enhanced Functionality
"FireBoltt Eclipse Sensors: Tracking Your Every Move"
This smartwatch comes equipped with an accelerometer and a heart rate sensor, ensuring accurate tracking of your activities and workouts. It also provides valuable data on sleep quality and active minutes, helping you lead a healthier lifestyle.
Comprehensive Activity Tracking
Whether you're counting calories, monitoring your steps, or analyzing your heart rate, the Fireboltt Eclipse has you covered. It tracks calorie intake and burn, distance traveled, steps taken, sleep quality, hours slept, and more.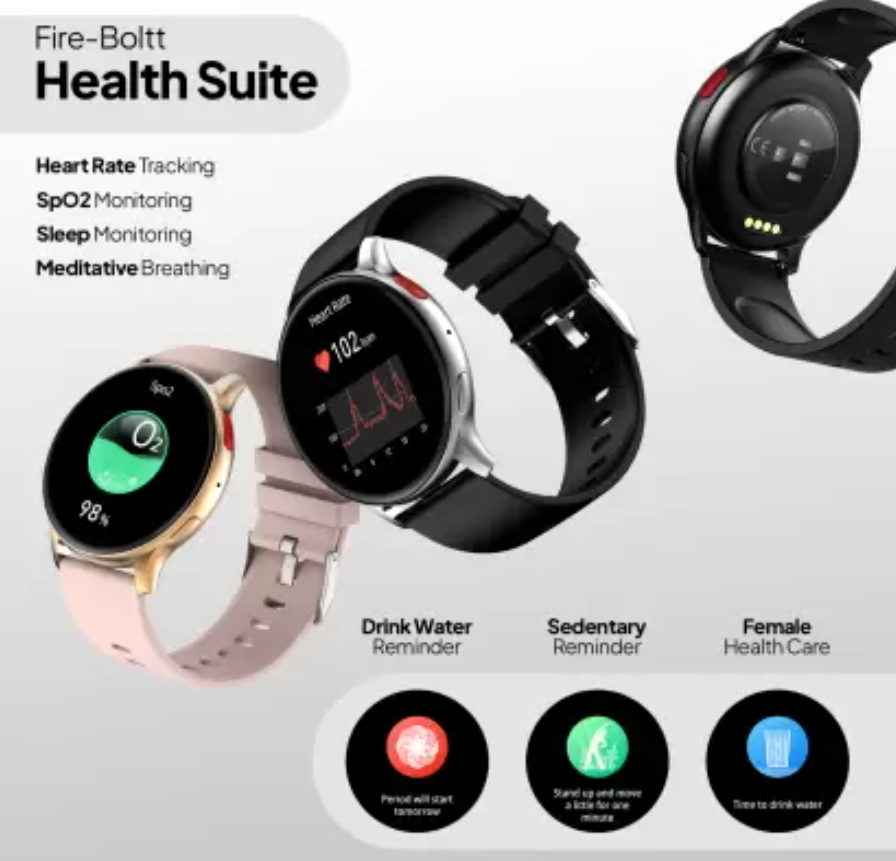 Water-Resistant and More
"Fire-Boltt Eclipse: Built to Withstand"
With an IP67 certification, the Fireboltt Eclipse is water-resistant, making it suitable for various activities, including swimming. Additionally, it offers features like alarms and stopwatches for added convenience.
A Smartwatch that Stands Out
"Fire-Boltt Eclipse: The Ideal Blend of Style and Functionality"
In conclusion, the Fireboltt Eclipse smartwatch is a standout choice in the crowded world of wearables. Its elegant design, crisp display, long battery life, and comprehensive tracking capabilities make it a top contender. Whether you're hitting the gym or heading to the office, this smartwatch is ready to accompany you on your journey.