vivo has once again stepped into the spotlight with the launch of the Vivo Watch 3. This latest offering not only boasts a sleek and modern design but also introduces the world to Vivo's custom-built BlueOS. In this blog, we'll delve into the exciting features of the vivo Watch 3, exploring its design, functionality, and the innovative BlueOS that sets it apart.
The Allure of Design
A Singular Size with Diverse Options
The vivo Watch 3 comes in a single size, with a 46.1mm wide watch body that weighs a mere 36g. This lightweight yet robust design is available in two distinct designs and colors, providing users with options to match their style. The round, borderless glass with a curved top gives it a modern and sophisticated look.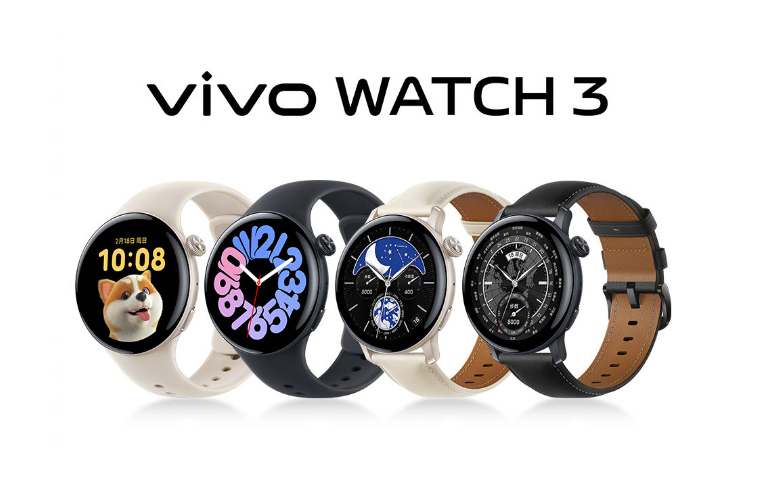 Bands that Define Your Style
Choose between two band styles: the leather strap version with twin lugs for a classic appeal, or the lug-less alternative that comes with silicone straps for a sportier look. The diversity in design ensures that the vivo Watch3 caters to various preferences, seamlessly blending into any lifestyle.
Display Innovation
The 1.43-inch 466x466px AMOLED display takes center stage on the vivo Watch 3, offering vivid visuals and the convenience of an always-on feature. The round watch case and the carefully crafted glass create an immersive viewing experience, making it a fashion statement on your wrist.
BlueOS: A Revolutionary Operating System
Navigating with Ease
The Vivo Watch 3 runs on BlueOS, a custom operating system by Vivo. The intuitive user interface is navigated effortlessly with a stainless steel rotating crown that doubles as a button, complemented by a second button underneath. This design choice not only enhances usability but also adds a touch of sophistication to the overall experience.
App Ecosystem
BlueOS brings a robust app ecosystem to the vivo Watch3, complete with a built-in app store. Users can customize their smartwatch experience by choosing from a variety of apps. Notably, BlueOS integrates Vivo's Jovi assistant, adding a layer of intelligence to the device.
Style Your Time with 10 Watch Faces
Express yourself through time with 10 built-in watch faces that cater to various moods and occasions. Whether you prefer a minimalist design or a more elaborate display, the vivo Watch 3 has a watch face for every style.z
Health and Fitness at Your Fingertips
Cutting-Edge Health Monitoring
The vivo Watch 3 is not just a style statement; it's also your health companion. The Star Ring health sensor enables 8-channel heart rate tracking and 16-channel blood oxygen tracking, providing real-time insights into your well-being. The smartwatch also includes sleep tracking and a Running coach for fitness enthusiasts.
Battery Power That Lasts
With a 505mAh battery, the vivo Watch 3 ensures that you stay connected for an extended period. Enjoy up to 16 days without Bluetooth, 8 days in Bluetooth mode with notifications, and up to 3 days with all features active and heavy usage. This impressive battery life makes the Vivo Watch3 a reliable companion throughout your daily adventures.
Bluetooth or eSIM: Choose Your Connectivity
The vivo Watch 3 comes in two connectivity options: Bluetooth-only and eSIM versions. The Bluetooth model is available with a silicon strap at CNY 1,099 (€140, INR 12,700), or a leather strap at CNY 1,199 (€155, INR 13,900). For eSIM enthusiasts, the silicon strap version is priced at CNY 1,299 (€167, INR 15,100), while the leather strap variant comes in at CNY 1,399 (€182, INR 16,300).
Conclusion
In conclusion, the vivo Watch3 is a testament to the brand's commitment to innovation and user-centric design. With BlueOS at its core, this smartwatch seamlessly blends style and functionality. Whether you are a tech enthusiast, a fitness buff, or a fashion-forward individual, the vivo Watch3 offers a compelling package that is bound to elevate your wearable experience.
Embrace the future of smartwatches with the vivo Watch 3, where cutting-edge technology meets timeless design. Stay connected, stay stylish, and let the Vivo Watch 3 redefine how you perceive wearable technology.